San Jose, USA
Kochi, India
soft-geometry
stool 00
Utharaa L Zacharias
Palaash Chaudhary
---
Stool imagined, for uncertain times
Q. What is your present state of mind?
Utharaa & Palaash: Younger, almost like children. Adult freedoms, the ability to control our lives, our business, our goals - are paused, but a different kind of freedom has taken its place, one that has given us space and time to 'play' and opportunities to learn, room to talk more deeply and options for rest. Somewhere in the back of our minds there are fears for how this will end and what happens next, but -
for now we are two friends at a slumber party.
Q. Tell us about your piece from the exhibit
Utharaa & Palaash: The initial days of the lockdown were a lot to take in. We were doing okay, better than so many others, yet there was an emptiness that had arrived and lingered. The void was hard to brush off, it was unnerving and yet it was what pushed us to imagine this show, to reach out, connect, make new friends and create again.
The stool was imagined from this idea of being formed by vacancies, devoid of corners or edges, or realities to reference - it was just a collection of holes held together. Even so, there is order, it is organic but also mathematical, born a little melancholic, manifest a little humorous.

Q. What does it mean to create or be creative at a time of uncertainty?
Utharaa & Palaash: To be creative in a shit situation is to be hopeful, optimistic and be rooted in fantasy more than reality. It's a purposeful looking-at-the-glass-half-full way and it keeps us on our feet, in good spirits, feeling resourceful, and fortunate. We are adapting to our constraints and countering them with found alternatives, new materials, scalable sizes, modularity, repetition and so on.
It has obscured and stretched out time in a way where we can sketch, and doodle and be generally more wondrous in our thinking.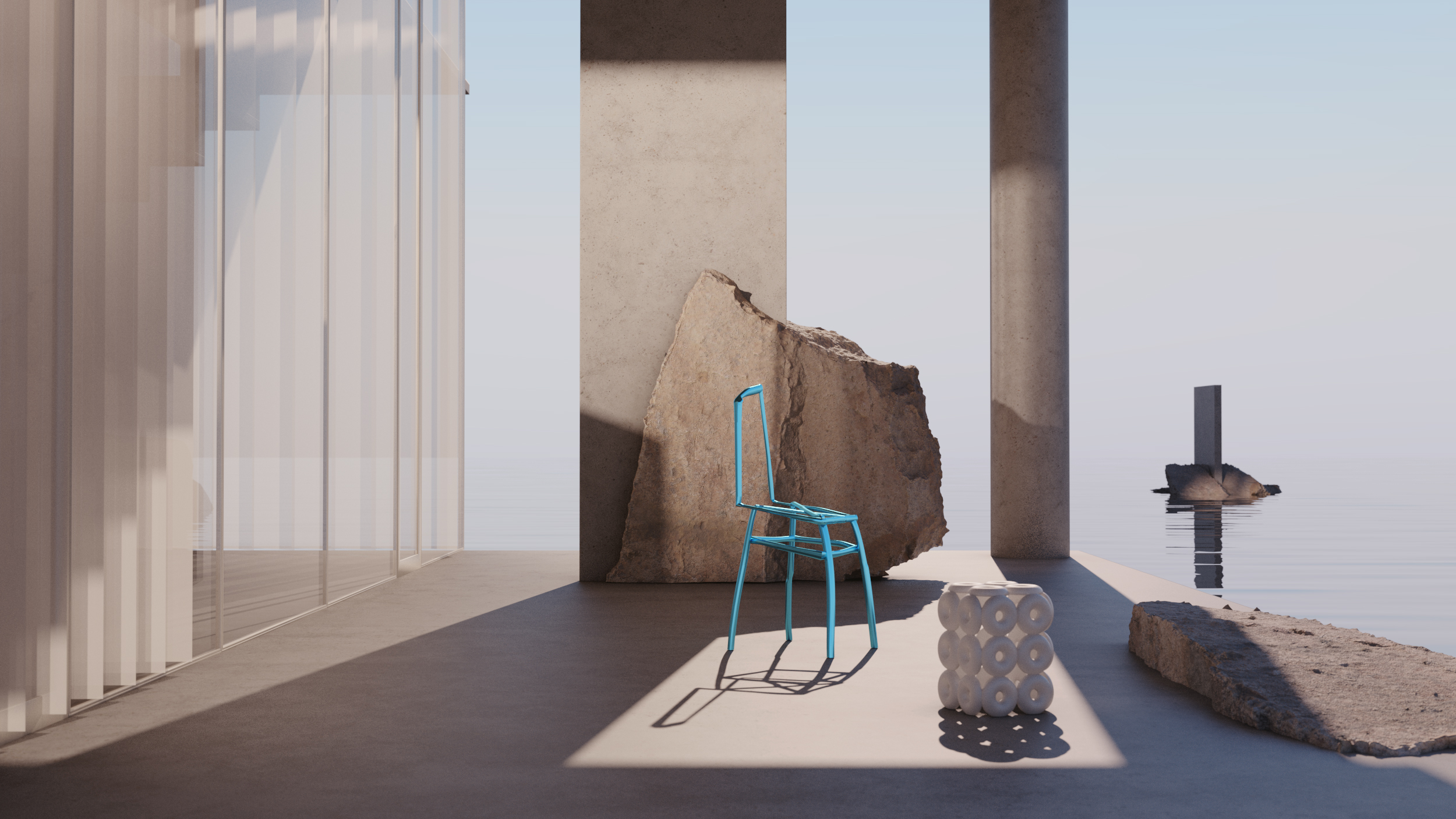 companions /

chair,
Yeong JinYoung
&
stool,
soft-geometry
soft-geometry
Founded in 2018 by Indian designers Utharaa L Zacharias and Palaash Chaudhary, soft-geometry is a collaborative design studio creating furniture and home objects around a central theme of softness. Their work explores new materials and processes that employ slowness, craft, intimacy and humor as agents of empathy between objects and people.
Zacharias and Chaudhary often reference the rich visual culture and hand-crafts of their home towns in India, and derive opportunities to bridge traditional and modern ways of making and seeing.
www.soft-geometry.com
︎